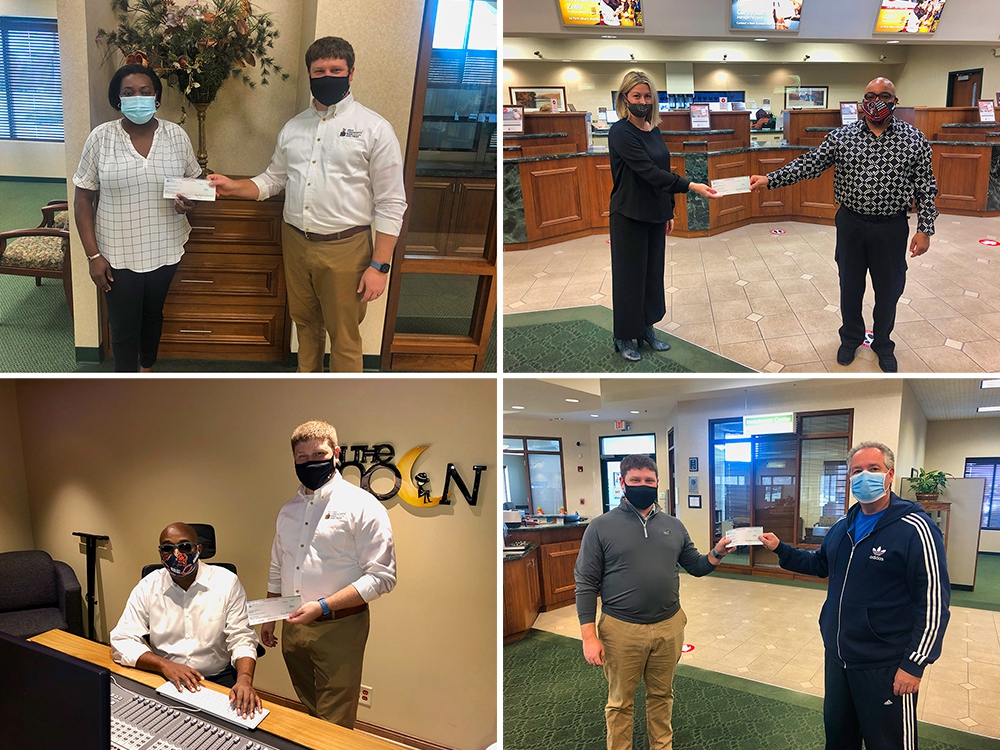 FHLB and FCBT Provide $5,000 in Additional Funds
to Four Local Businesses
November 20, 2020 - First Community Bank and Trust recognizes that being a community bank means going the extra mile for our customers. We also know that this pandemic has been especially hard on small business owners. For those reasons, we are so grateful to have been able to assist many of them through the Paycheck Protection Program. We believe in fostering relationships with our customers and understanding how their business works. Because of this partnership, we want to help in any way we can during this trying time.
We are very pleased to announce that through the Federal Home Loan Bank of Chicago (FHLBank Chicago) we have been able to provide additional assistance through their Targeted Impact Fund. The Federal Home Loan Bank of Chicago's Targeted Impact Fund provides Member bank's with grants to support relief efforts for populations hardest-hit by COVID-19, as well as to promote equity and opportunity for communities of color. The Targeted Impact Fund opened on Monday, August 17, with funding available through Tuesday, November 10.
The Targeted Impact Fund provided $5,000 each to four of our local businesses that met the criteria for this campaign. We would like to congratulate Nadine White - SoundTronix, Inc.; Anthony Scales - ARS Capital Investments, LLC; Byron Harden - I See Music, LLC; and Juan Hernandez - Alicia's House, Inc. as our recipients of these grants.
Our local businesses are such a vibrant and integral part of our community. We know how important it is to support them today and always. As a community bank we are not only your financial partners, but also your friends and neighbors. This means that we're here to celebrate your successes, but also to be a helping hand in your times of need.
This $20,000 grant money, along with the 40 - $1,000 grants that we provided in April, 2020, totals $60,000 in additional grant relief. These grants bring us great joy to be able to help our business customers so greatly impacted by the COVID-19 pandemic. First Community Bank and Trust is working hard to support our customers during this time…and we always will.
---
About First Community Bank and Trust
First Community Bank and Trust is a privately-owned bank. Established in 1916 First Community Bank and Trust has been serving Beecher, IL, Peotone, IL and the surrounding communities for over 100 years. Our commitment to providing the best banking products and services is matched only by our outstanding customer service. We offer traditional community banking services, including mortgage, consumer, and commercial lending, as well as state of the art electronic banking services.
Press Contact:
Steve Koehn, Vice President
First Community Bank and Trust
(708) 946-2246