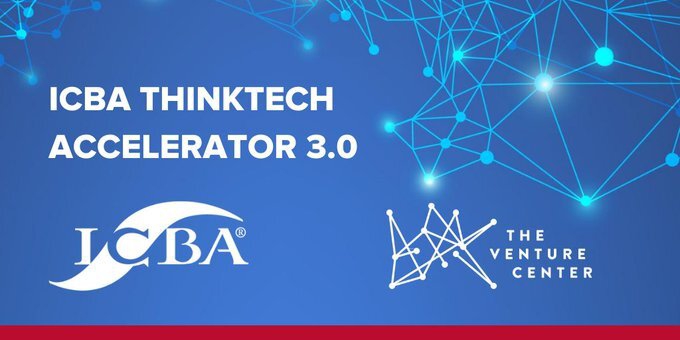 Beecher, IL (Jan. 6, 2021) — First Community Bank and Trust announced its participation in the Independent Community Bankers of America (ICBA) third annual ICBA ThinkTECH Accelerator, in partnership with The Venture Center. The ICBA ThinkTECH Accelerator program fosters fintech-community bank collaboration to develop new technologies specifically for community banks and the customers they serve.
"With decades of relationship banking experience in the Beecher, Peotone and surrounding communities, First Community Bank and Trust has continually innovated to stay in step with the diverse and evolving needs of our customers," said Greg Ohlendorf, President and CEO. "We are excited to get to work developing the solutions of tomorrow that support our mission-driven innovation approach and contribute to the health and prosperity of our local communities."
"Innovation has become a key focus of the financial services landscape and forums like the ICBA ThinkTECH Accelerator program help ensure our industry's continuous progress and resiliency," ICBA Senior Vice President and Chief Innovation Officer Charles Potts said. "We're thrilled to create an environment to help foster these pivotal connections and anticipate a long and productive relationship that delivers on the promise of innovation for future generations."
"We are proud to partner with the ICBA in selecting the cohort to help speed innovation efforts of community bankers for their customers across the nation," Wayne Miller, executive director of The Venture Center said. "Community banks serve a vital role in our economy and we're honored to play a role in supporting their efforts."
To learn more about the ICBA ThinkTECH Accelerator program visit icba.org/thinktech/accelerator.
---
About First Community Bank and Trust
First Community Bank and Trust is a privately-owned bank. Established in 1916 First Community Bank and Trust has been serving Beecher, IL, Peotone, IL and the surrounding communities for over 100 years. Our commitment to providing the best banking products and services is matched only by our outstanding customer service. We offer traditional community banking services, including mortgage, consumer, and commercial lending, as well as state of the art electronic banking services.
About ICBA
The Independent Community Bankers of America creates and promotes an environment where community banks flourish. ICBA is dedicated exclusively to representing the interests of the community banking industry and its membership through effective advocacy, best-in-class education, and high-quality products and services.
With nearly 50,000 locations nationwide, community banks constitute 99 percent of all banks, employ more than 700,000 Americans and are the only physical banking presence in one in three U.S. counties. Holding more than $5 trillion in assets, over $4.4 trillion in deposits, and more than $3.4 trillion in loans to consumers, small businesses and the agricultural community, community banks channel local deposits into the Main Streets and neighborhoods they serve, spurring job creation, fostering innovation and fueling their customers' dreams in communities throughout America. For more information, visit ICBA's website at www.icba.org.
About The Venture Center
The Venture Center's immersive accelerator programs are designed to accelerate the growth of early-to-late stage companies and help validate their solutions for real-world problems. Our methodology provides a unique opportunity to connect with community bank executives, receive seed investment, and learn from a comprehensive curriculum aiding in strategically addressing go-to-market, business, and finance challenges. Learn more at www.venturecenter.co. Follow The Venture Center on Facebook, LinkedIn, Twitter(@VentureCenter), and Instagram.
Press Contact:
Steve Koehn, Vice President
First Community Bank and Trust
(708) 946-2246
# # #