Your Debit MasterCard is feature rich!
Learn more about Debit MasterCard and see how easy it is to maximize it's full payment potential.
Make safe and convenient payments
First Community Bank and Trust's Debit MasterCard is one of the safest and most convenient ways to make purchases. Use Debit MasterCard to make purchases at millions of locations worldwide. When you make a purchase, the money comes directly out of your checking account. Debit MasterCard gives you direct access to your funds around the clock and around the globe, and a detailed record of every transaction, right on your regular monthly account statement.
It lets you quickly make payments and offers the following features:
Use the EMV chip where chip cards are accepted.
Swipe your card at merchants that do not accept chip cards.
Add your card to your phone's digital wallet and make secure online and in-person payments.
Make your Debit MasterCard the default card in your digital wallet.
Get cash at ATMs and save money at surcharge ATMs with MoneyPass.
Debit MasterCard

Reissued or New Card
To activate your new card and set a PIN, call toll free (800) 992-3808. If this is a reissued card you already carry, your PIN will remain the same. Please destroy your old card.

Lost or Stolen Card? Call us immediately.
During Business Hours: Beecher (708) 946-2246 | Peotone (708) 258-0530.
After Business Hours: In the U.S. 1-(800) 627-8372) | Out of the U.S. 1-(636) 722-7111.

Questions About Your Debit MasterCard?
Call a new account representative at (708) 946-2246 or (708) 258-0530.
Instant Issue
If your card is ever lost, stolen or damaged, we can replace your card same day.
Contact us at (708) 946-2246 in Beecher or (708) 258-0530 in Peotone. We'll produce a replacement card for you in minutes and have it ready for you to pick up.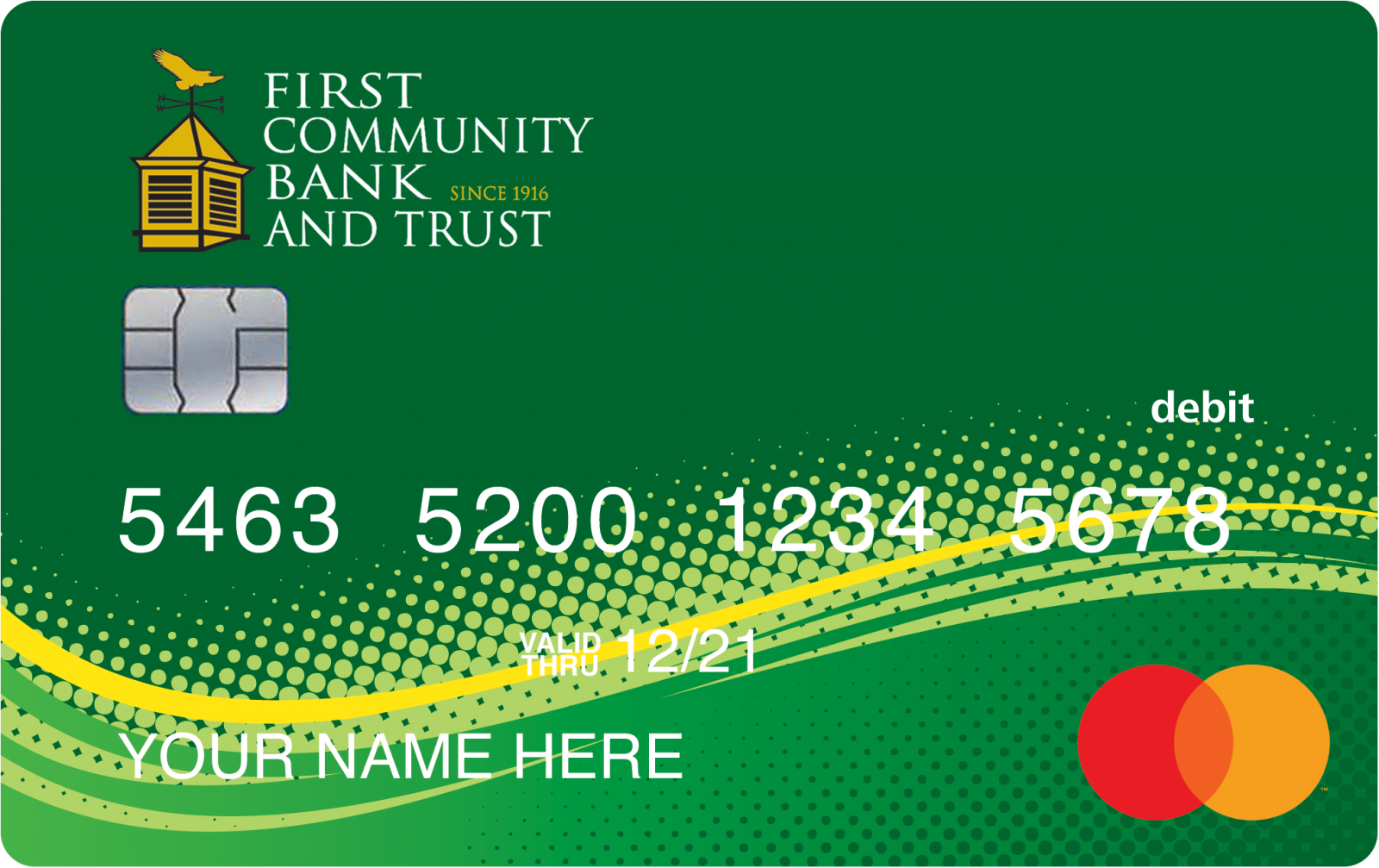 Tracking your Debit MasterCard transactions is important, so you know that your card is being used only by you. When you are a First eAlerts user, you receive account alerts in real-time. Meaning you are staying up-to-date on your account activity at all times. It's a great way to protect yourself against any unauthorized purchases.
Tap "Manage Alerts"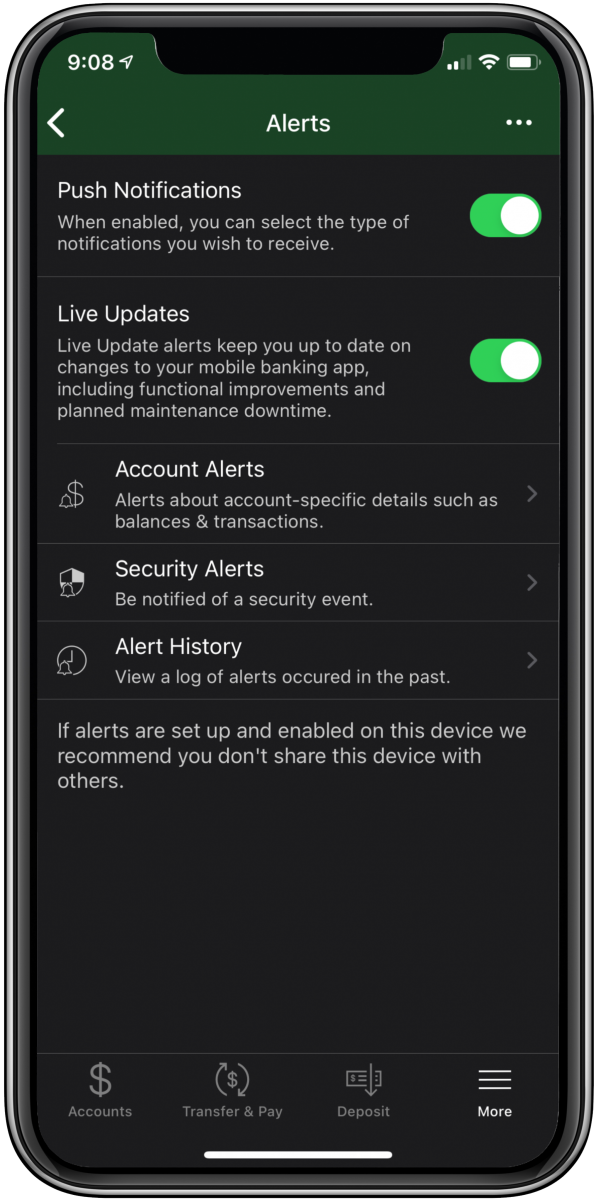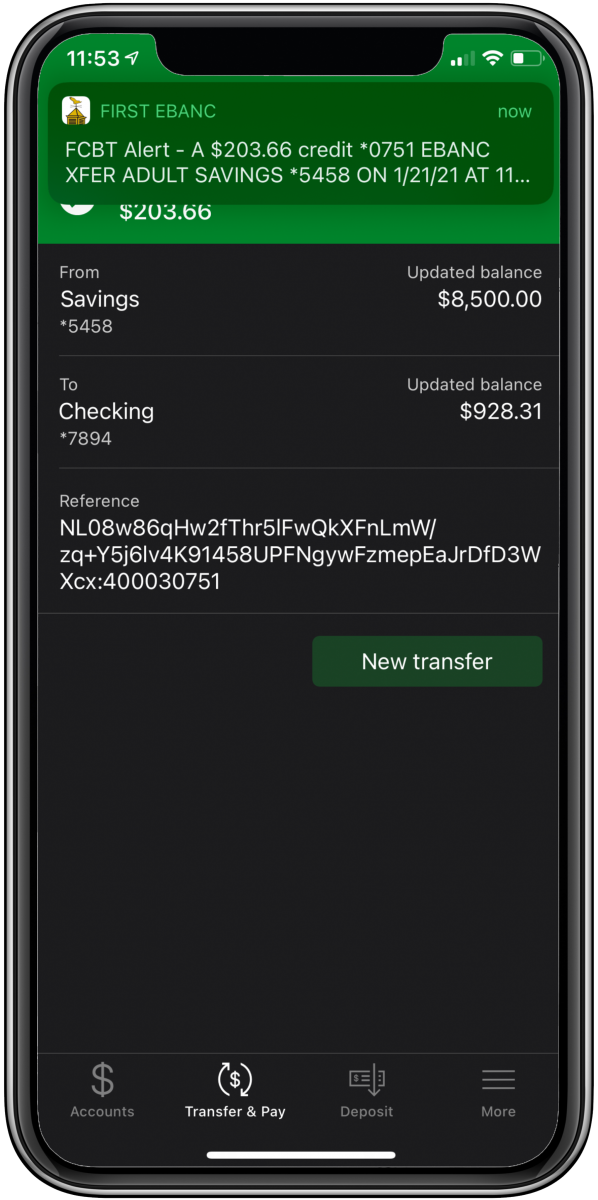 Choose First eBanc Mobile and tap "My cards" to safeguard your Debit MasterCard from fraud with the ability to set spending limits and block your card in real-time if it's ever lost or stolen. It's ideal for Debit MasterCard holders who want to protect and manage their debit cards through their mobile device.
Tap "My cards"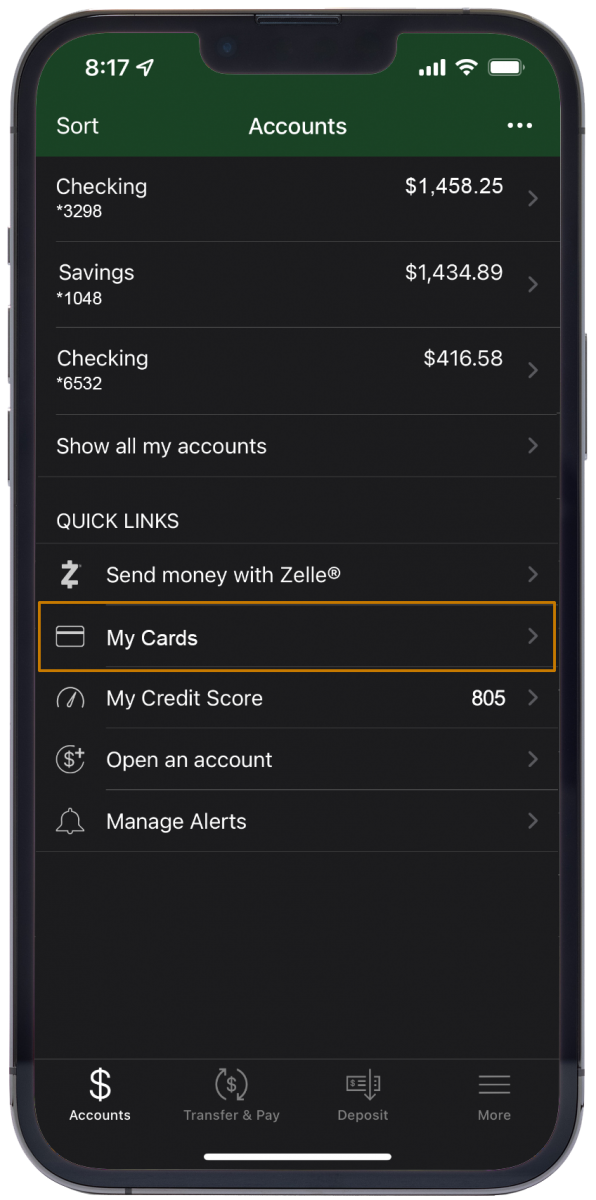 No one likes to pay ATM fees for their money. That's why your First Community bank and Trust Debit MasterCard offers surcharge-free ATM access to over 37,000 MoneyPass ATMs coast to coast.
Visit www.moneypass.com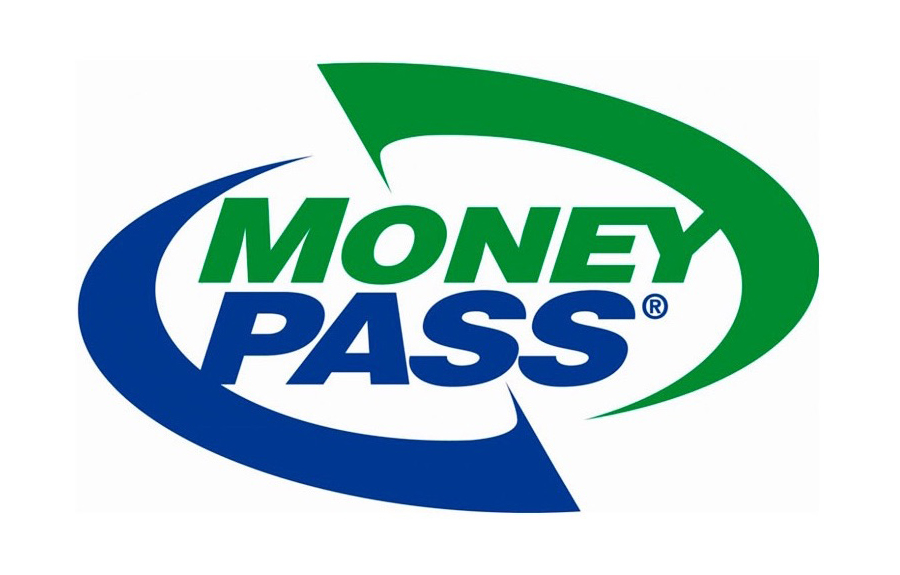 Digital Wallets
Add your Debit MasterCard to your phone's wallet and your card becomes the easiest and safest way to pay.
Apple Pay is now available at many of your favorite retailers, in-person and online.
Apple Pay is the easiest and most secure way to pay at many retailers. Simply tap Buy with Apple Pay when online and complete your purchase without the need to add to a cart or fill out a form. Or, tap at check out when you are purchasing in-person. Either way, add your FCBT Debit MasterCard to your iPhone wallet to make fast and secure payments with Apple Pay. Use this feature wherever you see the Apple Pay logo.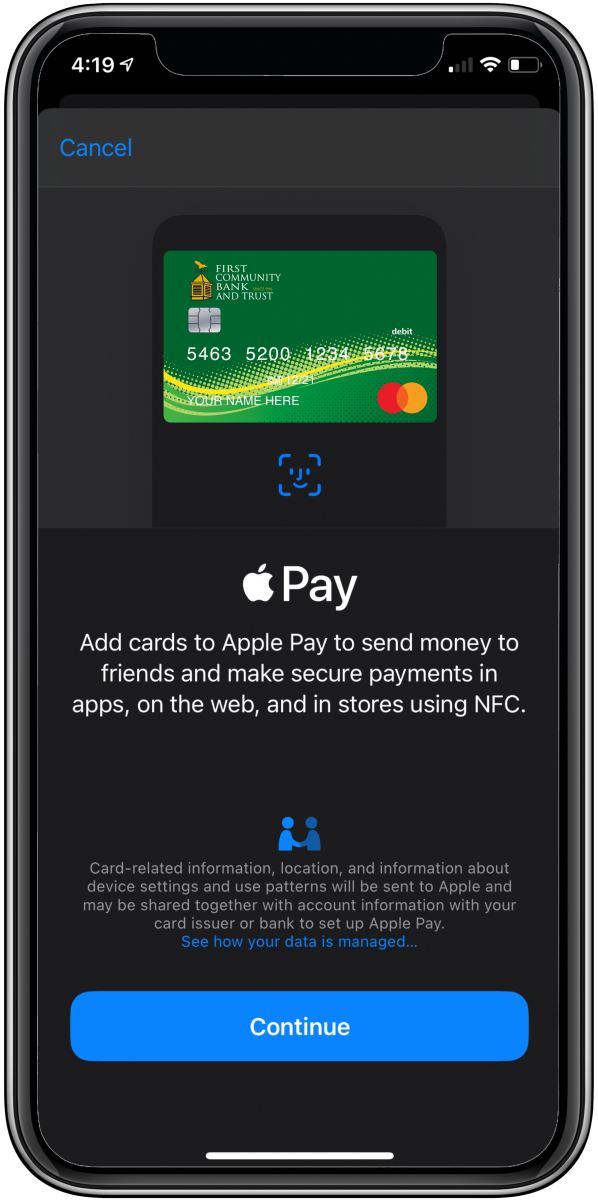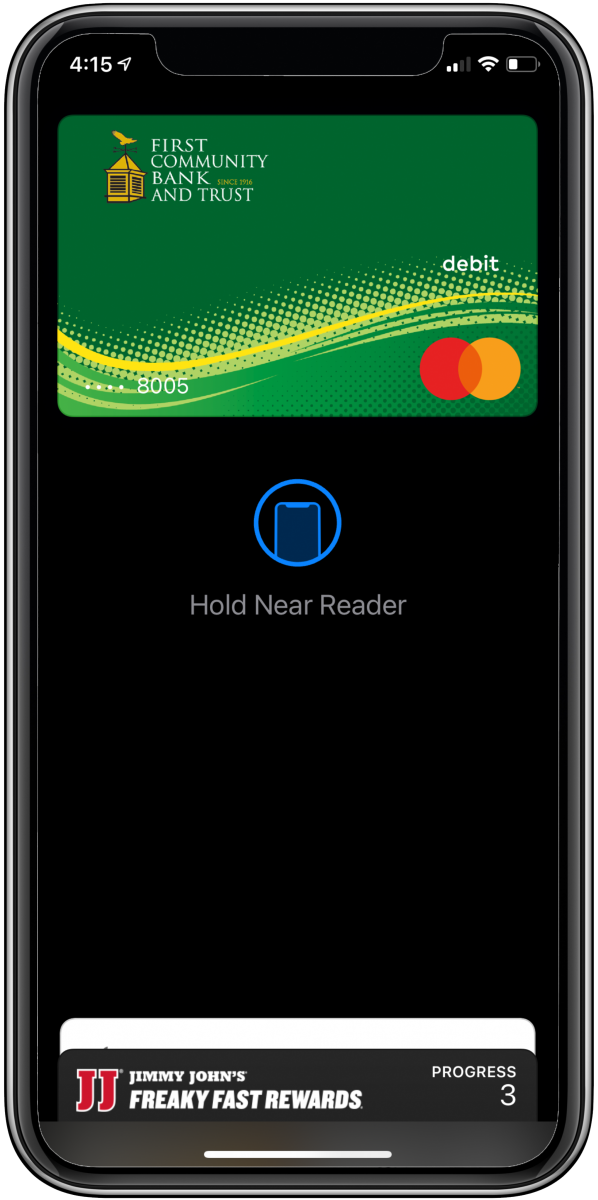 Your purchases stay private.
Apple Pay is safer than using a physical credit, debit, or prepaid card. Face ID, Touch ID, or your passcode are required for purchases on your iPhone, Apple Watch, Mac, or iPad. Your card number and identity aren't shared with merchants, and your actual card numbers aren't stored on your device or on Apple servers.
When you pay in stores, neither Apple nor your device will send your actual card number to merchants. When you pay online in Safari or in apps, the merchant will only receive information you authorize to fulfill your order — such as your name, email address, and billing and shipping addresses.
Learn more about Apple Pay®
Keep your FCBT Debit MasterCard within tapping distance. Keep credit cards, debit cards, transit passes, and more on your phone for quick, easy access.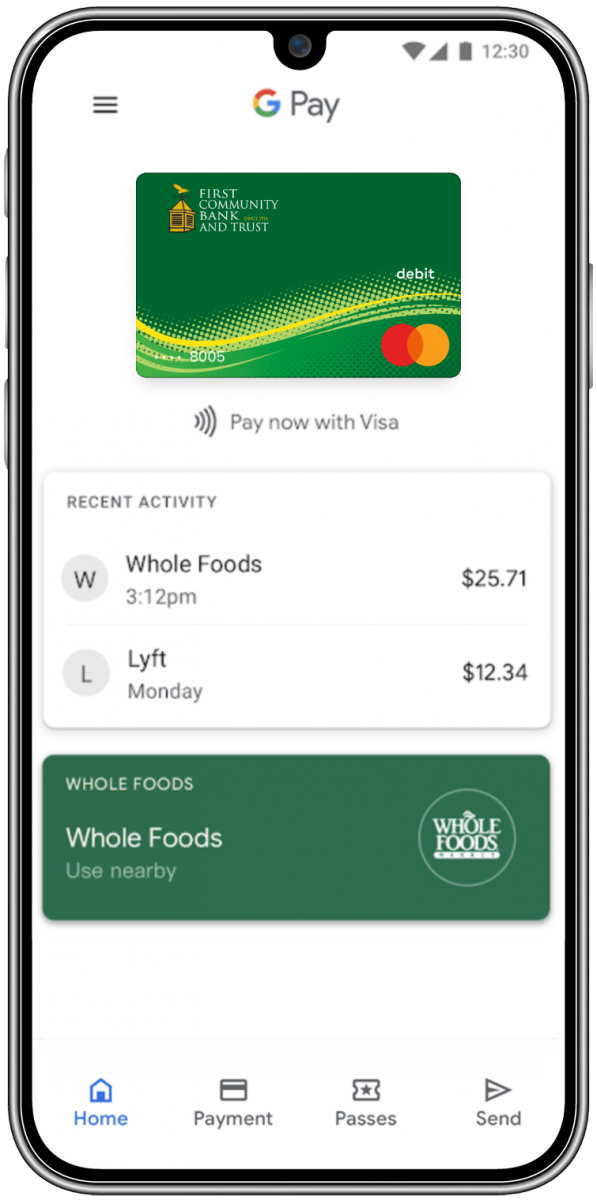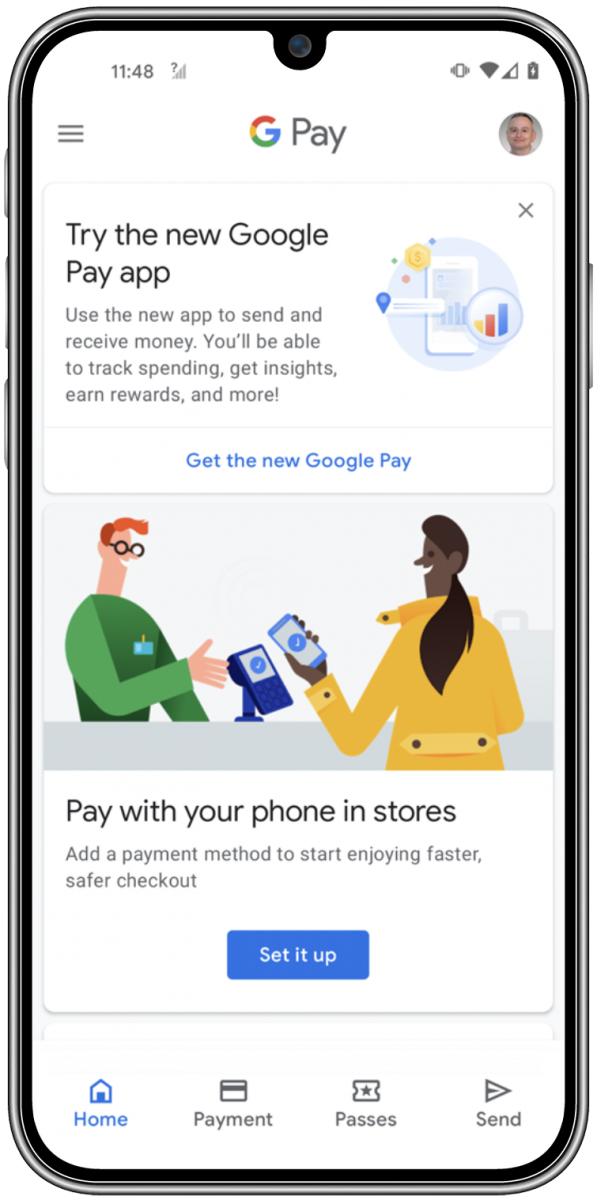 Privacy and Security
With privacy and security built into every payment, using Google Pay is safer than swiping your card or paying with cash.
Transparency: Google Pay will never sell your personal information to third parties or share your transaction history with any other Google service for targeting ads.
Control: Google Pay has easy-to-use tools that put you in control so you can choose the privacy settings that are right for you.
Security: Google Pay keeps your money and private information safe with built-in authentication, transaction encryption, and fraud protection.
Learn more about Google Pay®
More than a wallet. Carry your favorite cards on your devices so you can pay in-person, in-app or online. Plus, earn cash back and get extra rewards for the purchases you make every day.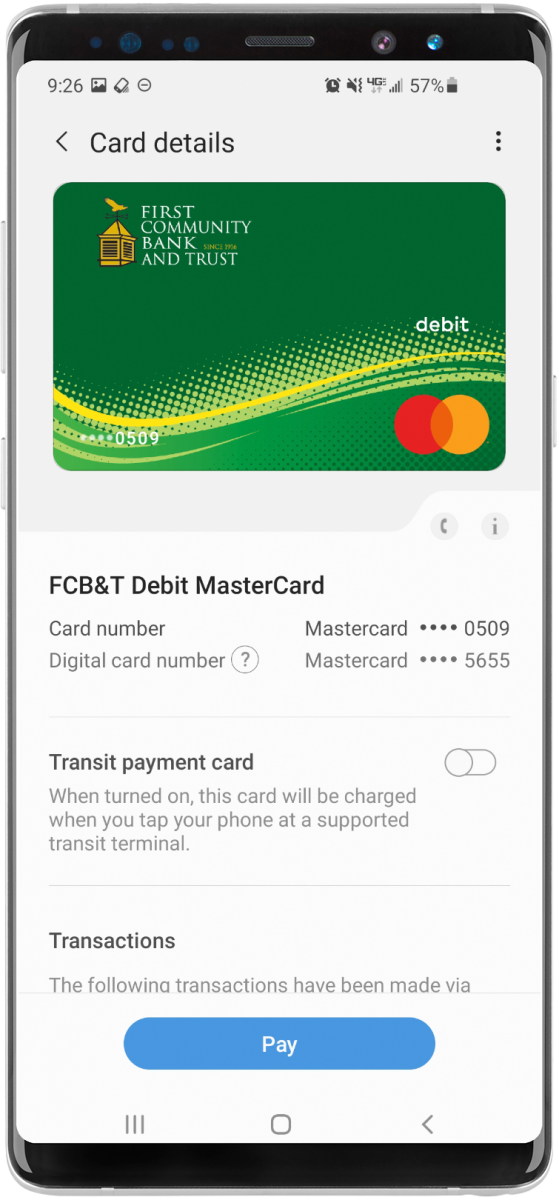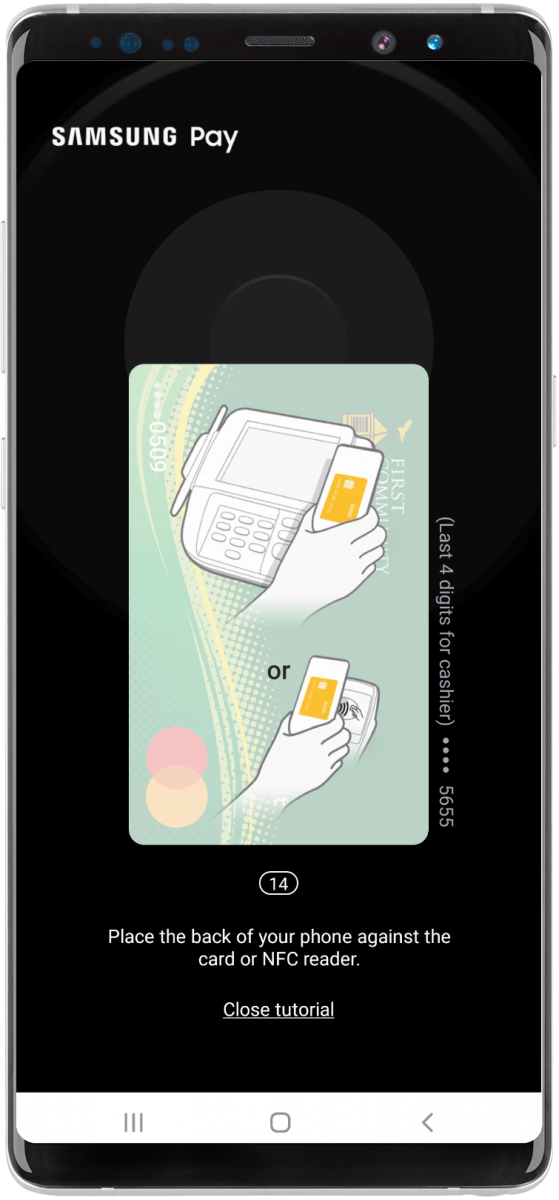 Check out fast in your apps.
No need to enter your credit card number for in-app or online purchases—simply select Samsung Pay at checkout and authenticate the purchase with your fingerprint, PIN or iris scan.
Get an extra layer of security.
With Samsung Pay, each transaction is covered by your bank's fraud protection and authenticated by your fingerprint, PIN or iris scan. Plus, Samsung Knox and tokenization add extra layers of security.
Learn more about Samsung Pay®
Other things to know about Debit MasterCard
Keep all your receipts, note transactions and compare them with your regular monthly account statement. That way, it's easy to spot any unauthorized transactions.When you receive your Debit MasterCard, be sure to sign the back.

Never write your PIN on your card.

If your card is lost or stolen, immediately contact us at (708) 946-2246 or (708) 258-0530
Debit MasterCard support information
Debit Card Support Information

| | |
| --- | --- |
| Activate Your Card | (800) 992-3808 |
| Lost or Stolen: Contact Us During Banking Hours | (708) 946-2246 • (708) 258-0530 |
| Lost or Stolen: After Hours in the United States | (800) 523-4175 |
| Lost or Stolen: After Hours Outside the United States | (636) 722-7111 for collect calls |
| MasterCard Assistance Center | (800) 627-8372 |
Need to speak with a new account representative?
Call us in Beecher at (708) 946-2246 or in Peotone at (708) 258-0530 or send us an online message.
Solutions for all of your personal needs
® MasterCard is a registered trademark of MasterCard International. ® MomeyPass is a registered trademark of Fiserv, Inc. ® Apple Pay it a registered trademark of Apple, Inc.