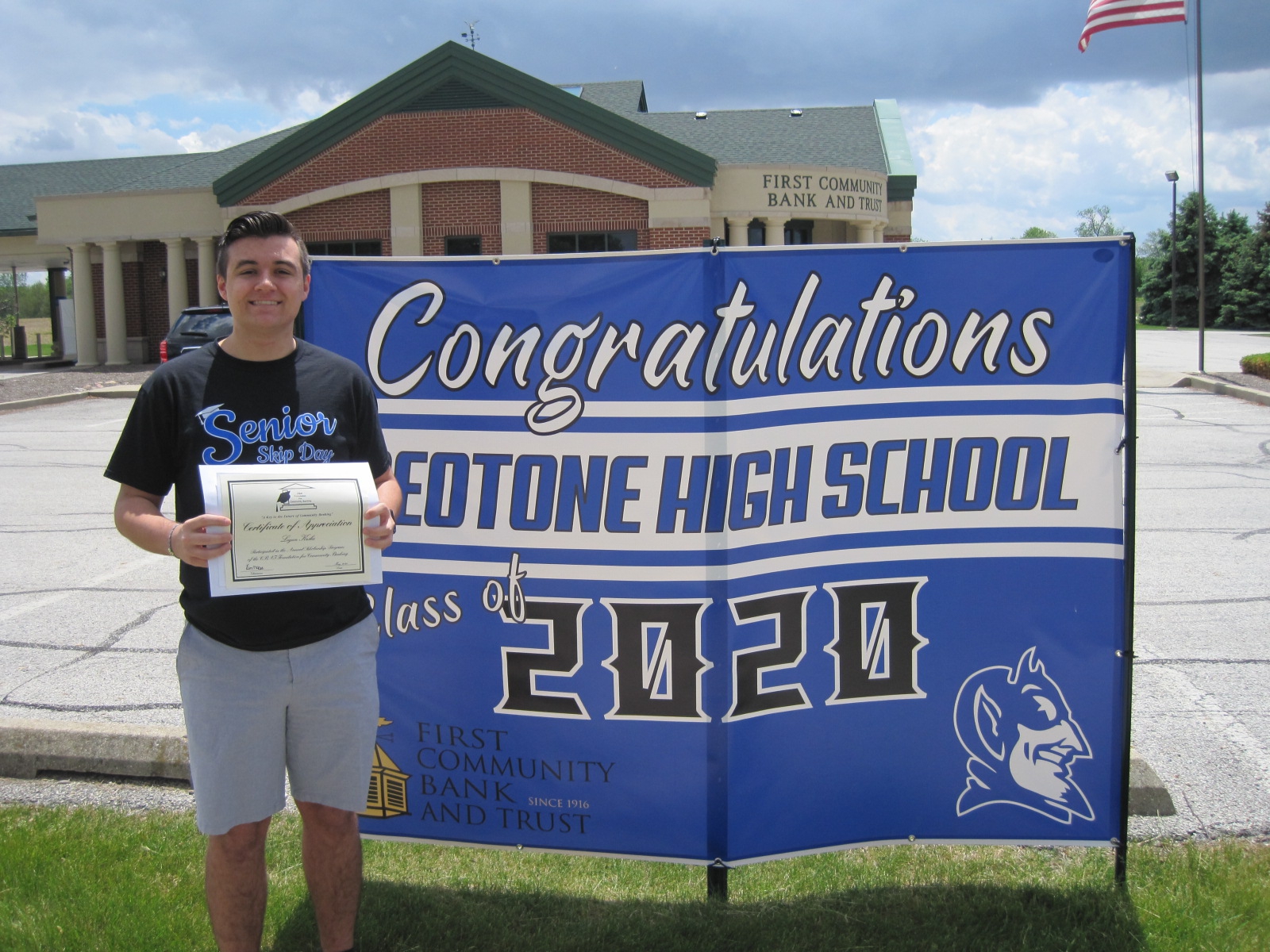 Peotone, IL (June 2020). . . The Community Bankers Association of Illinois (CBAI) Foundation for Community Banking has selected its 2020 Annual Scholarship Program winners. Now in its 34th year, the program offers $21,000 to 24 high-school seniors via an essay‑writing contest; $500 is also awarded to the first‑place winner's high school. This year, 90 CBAI member banks representing 246 students statewide, participated in the contest.
First Community Bank and Trust is very pleased to announce that Logan Krska has been named the first-place winner for group 2; the bank sponsored Krska for the contest. He has been awarded a one-time $1,000 scholarship to be used for higher education beginning next fall.
Below is a copy of his winning essay. Details will be available in September 2020 for the 2021 scholarship program.
---
We are very lucky to have a community bank in our community. My first banking experience was at my local community bank. They offered me a minor savings account that allowed me to directly deposit the checks from my first job. This gave me the opportunity to start responsibly saving my own money, and it helped to instill healthy financial habits. Not only did the local community bank help me, but it helped my parents. They have been banking with the local community bank for many years. Having a community bank in our town helps provide job opportunities for students who are interested in studying in the financial industry. Due to the convenience and the quality of the banking services provided, it was a perfect first place to go for my banking needs.
Community banks bring truly unique benefits to their communities. Small, locally based institutions have always been key to small business owners as well as farmers. Deep knowledge and relationship based lending can help stop losses during downturns as community bankers work closely with borrowers to avoid defaults. A community bank provides more one on one support to small family owned businesses and farmers in a community. These relationships are built upon foundations of trust with their customers. Farmers and small business owners who go to community banks seeking information and knowledge can rely on community banks to provide them with accurate and quality information. The bankers are well equipped with both the understanding and the experience that some farmers or small business owners may not have. Community based lenders tend to stick with their borrowers in tough times. Just recently, a massive hailstorm went through my town. Many members of the community went to the local local community for home equity loans to help fix the hail damage on their roofs, cars, and windows.
Community banks are vital to communities that they serve. A community bank often invests back into the community and gets involved to better the community. One of the best parts of my High School's Homecoming week is the tailgate party that is hosted by the community bank. They provide hotdogs, chips, and drinks to the community before the high school homecoming football game. Not to mention they are sponsors of my High School's Athletics program. In addition, they provide the community with essential banking needs. Community banks are cornerstones of the communities across the nation. They provide a wealth of information and services to a community, providing valuable information on how to handle money responsibly. At a community bank, one gets access to personal bankers with a full range of services. To top it all off, these banks are local, providing unbeatable convenience.
---
About First Community Bank and Trust
First Community Bank and Trust is a privately-owned bank. Established in 1916 First Community Bank and Trust has been serving Beecher, IL, Peotone, IL and the surrounding communities for over 100 years. Our commitment to providing the best banking products and services is matched only by our outstanding customer service. We offer traditional community banking services, including mortgage, consumer, and commercial lending, as well as state of the art electronic banking services.
About CBAI
Founded in 1974, CBAI is a professional trade association headquartered in Springfield, and represents approximately 300 Illinois community-oriented banks and thrifts.
About the CBAI Foundation for Community Banking
The Foundation was established by CBAI to professionally serve and support member financial institutions through every available channel, and to promote the community-banking philosophy
Press Contact:
Bridget Goedke
(708) 946-2246
bgoedke@firstcbt.com