TUTORIALS | FEATURES | REPORT LOST OR STOLEN DEBIT CARD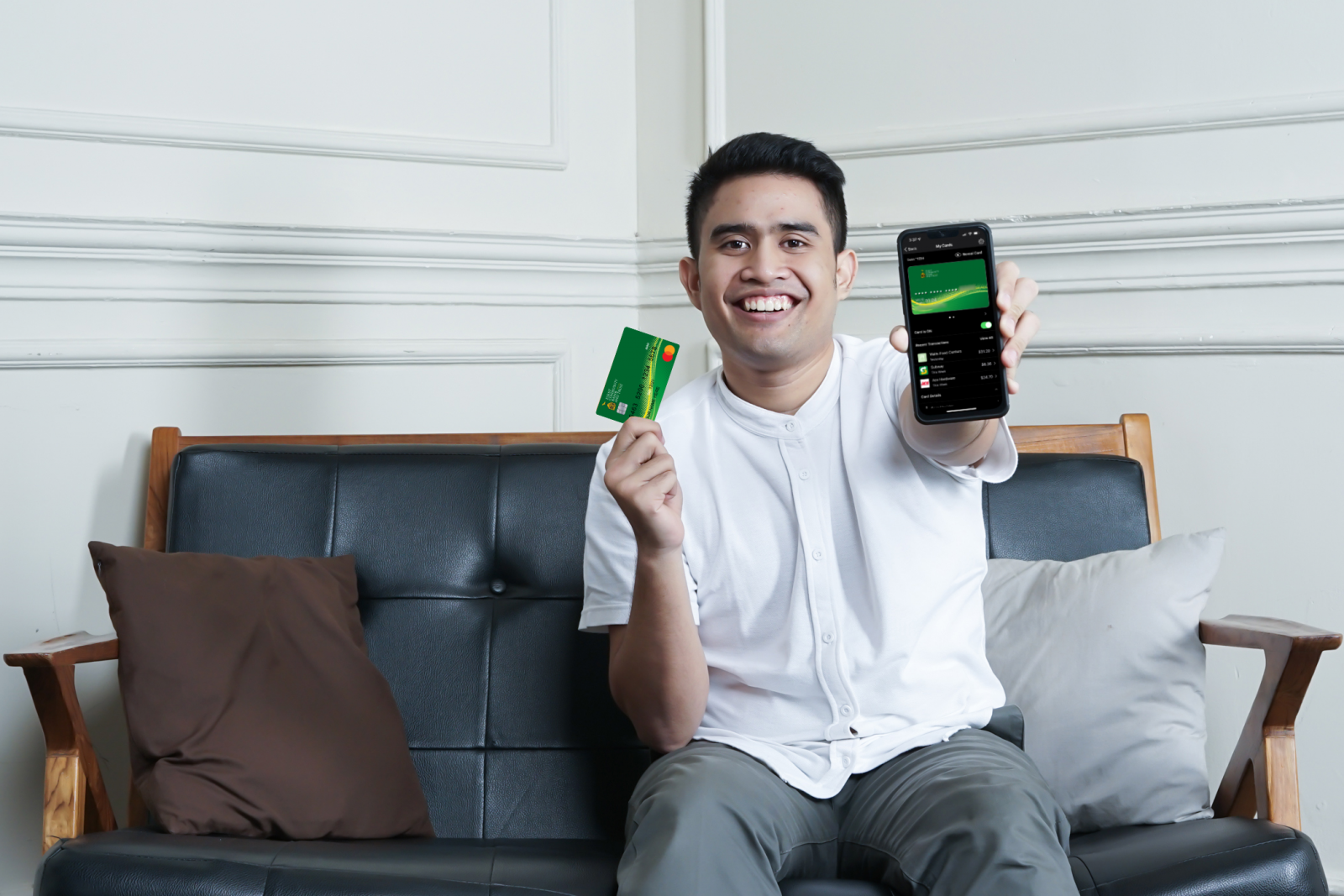 MANAGE YOUR DEBIT MASTERCARD WITH
MY CARDS. ALWAYS IN CONTROL.
Turn your Debit MasterCard on and off, set spending limits per merchant, view transaction insights, activate your digit wallet and so much more. You have total control of your FCBT Debit MasterCard at your fingertips.
A Better Card Experience at your Fingertips
Our First eBanc Mobile app puts more control, convenience and safety of your Debit MasterCard in your hands. From turning your card on and off to clearer merchant transaction information to robust fraud protections, now you can do even more from one convenient place. It doesn't get more secure and convenient than that.
---
Manage your Debit MasterCard.
Learn more with My Cards Tutorials.
---
AVAILABLE FEATURES
IN MY CARDS
Feel more empowered with My Cards. Control your cards on your terms.
Enjoy 24/7 access to your Debit MasterCard via First eBanc Mobile. You can ivew recent transactions with easy to follow company logos. Turn your Debit MasterCard on/off at your discretion for further fraud control if your card is ever lost or stolen, or if you see suspicious charges from your card, protecting you from fraud. Easily add Debit MasterCard to digital wallets from inside "My Cards".
Easily view your Spending Insights. Deeper insights into spending means deeper understanding.
View each of your debit card transactions and a tally of monthly spending. The "What" section shows spending by category. The "When" section shows your spending trends. The "Where" section shows the location of your purchase. Tap a transaction to view the merchant's name, logo, address, phone number and exact location.
Set up tighter security for your protection against fraud. Enhanced security features enable a better experience.
Enable "My Locations" to check the vicinity of your purchases. Enable "My Region" for geographic boundaries to be set for your purchases. Enable "Merchant Types" for blocking or allowing purchases at specific types of merchants. Enable "Transaction Types" to allow specific transactions. Set "Spending Limits" per enrolled card.
Feel more secure when your card is lost or stolen. Don't panic if you can't find your card.
Report lost or stolen cards in a couple of clicks. Contact us as soon as you know your card is ever lost or stolen. Immediately turn off a lost or stolen card from inside "My Cards". We will set up a time to replace your card in one of our lobbies.
Travel with ease. Use "My Cards" to easily set up travel plans.
Tap "Travel Plans" to add countries and U.S. States you may visit to enjoy uninterrupted use of your card while you travel. Simply enter your destination, departure date and return.
(This feature does not override restricted countries)
Better record keeping. Know where your card is being used at all times.
Know who is set up to automatically charge for "Recurring Payments" like monthly bills and subscription services. Know where you set up your debit card for future use with "Card on File".
---
LOST OR STOLEN DEBIT MASTERCARD
MY CARDS / INSTANT ISSUE
If you find your card is lost or stolen, we ask you to follow the below instructions
1. On your smart phone, go to the First eBanc Mobile app. Tap on Cards and tap the Card On/Off toggle to OFF. Your card will bo longer be live while you look for your card.
2. If you find your card, you can toggle your card ON and you are back to normal.
3. If you do not find your card, please call us at the numbers below. We can produce a new card for you in one of our lobbies during our next business day.
During Business Hours: Beecher (708) 946-2246 | Peotone (708) 258-0530.
After Business Hours: In the U.S. 1-(800) 627-8372) | Out of the U.S. 1-(636) 722-7111.
Need an Instant Issued Debit Card?
If you need a new card, we can replace your card same day with our Instant Issue Service. We'll produce a replacement card for you in minutes and have it ready for you to pick up.
Total Control of your Debit MasterCard
If you should have any questions, feel free to give us a call at (708) 946-2246 or (708) 258-0530.
---
® MasterCard is a registered trademark of MasterCard International. ® My Cards is a registered trademark of Fiserv, Inc.
Need assistance?
Call us in Beecher at (708) 946-2246 or in Peotone at (708) 258-0530 or send us an online message.
Solutions for all of your personal needs