Mobile Deposit for First eBanc Mobile
Mobile Deposit allows you to deposit checks using First eBanc Mobile and your smart phone camera. Take a picture of your check, submit the image to us and the check is deposited into your account. You are required to endorse your check with "FOR MOBILE DEPOSIT ONLY" in the endorsement area on the back of the check. It's that simple!
Take Mobile Deposit for a test spin
Once approved and activated, it's easy to deposit a check into your account. Watch the video below for detailed instructions.
Start using Mobile Deposit
Access Mobile Deposit in First eBanc Mobile by tapping the Deposit icon on the bottom of the screen. View the screen shots below for step-by-step instructions to deposit a check.
• Tap "Deposit" at the bottom of the screen, tap "Deposit a check", enter your deposit information (Checking account and check amount) and tap "Take photos".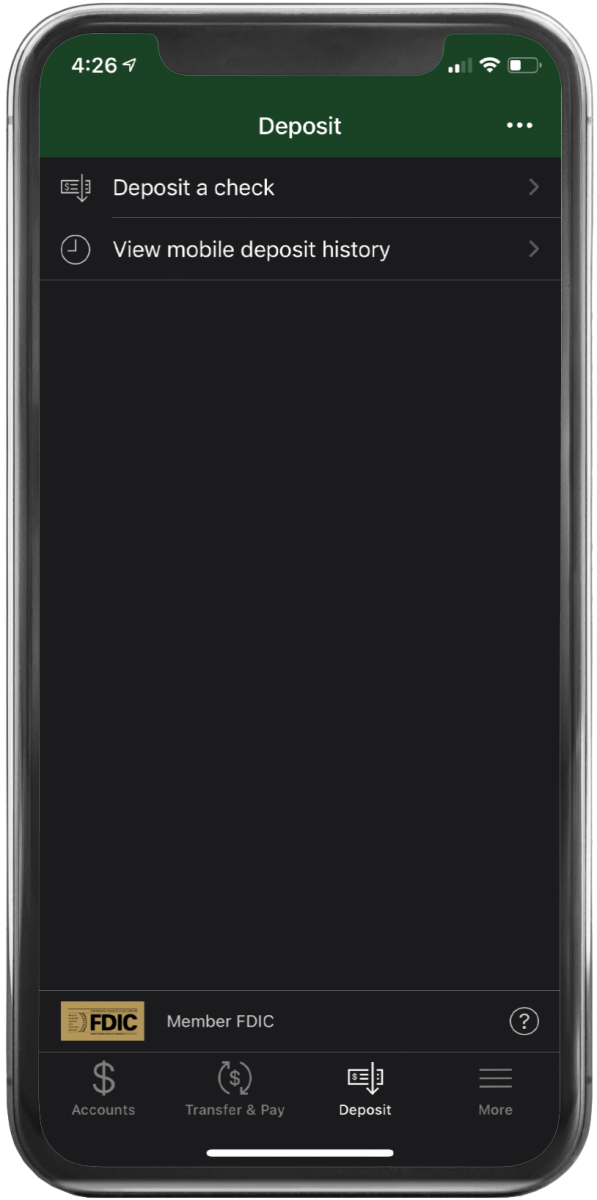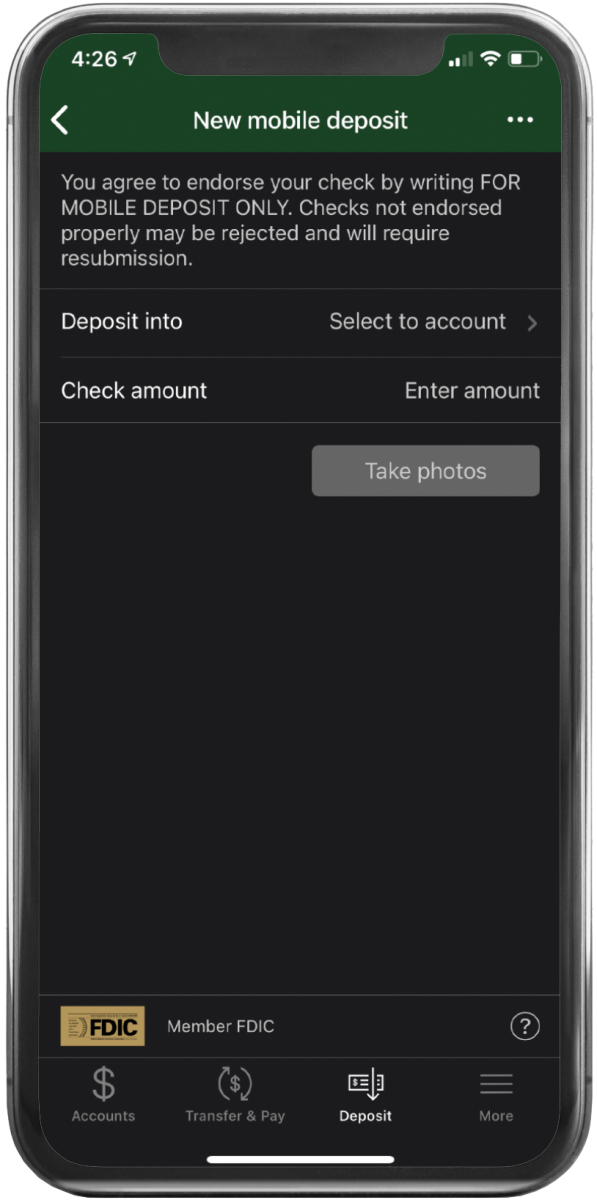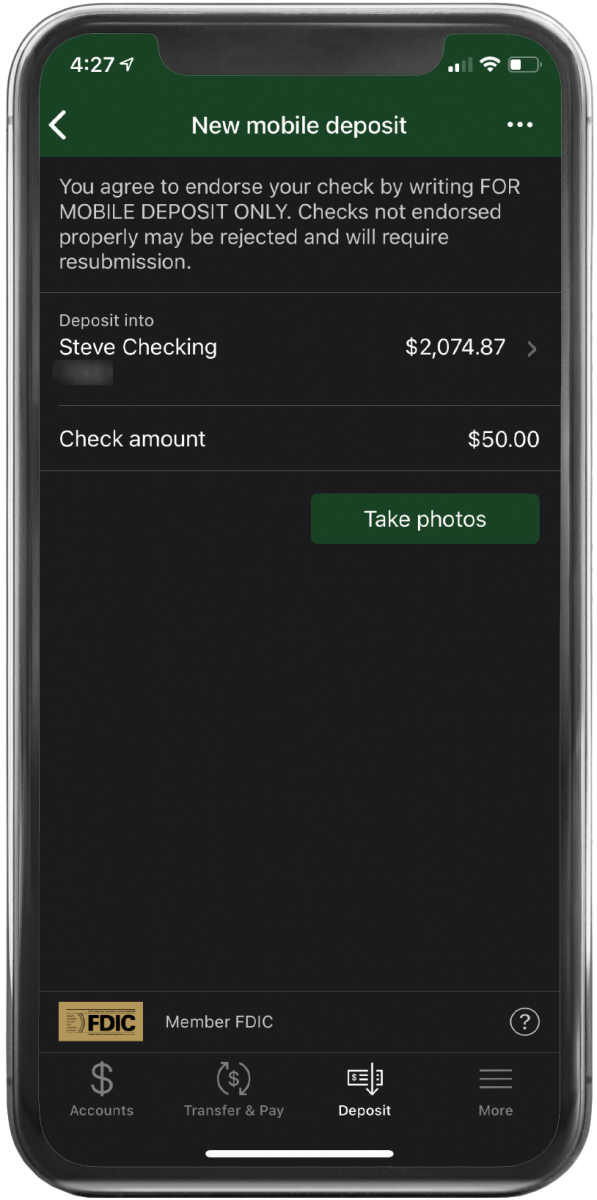 • Take a clean and crisp photo of the front and back of your check when prompted. Endorse with "FOR MOBILE DEPOSIT ONLY". Tap "Use" if your photo is clear, tap "Retake" if you need a better photo.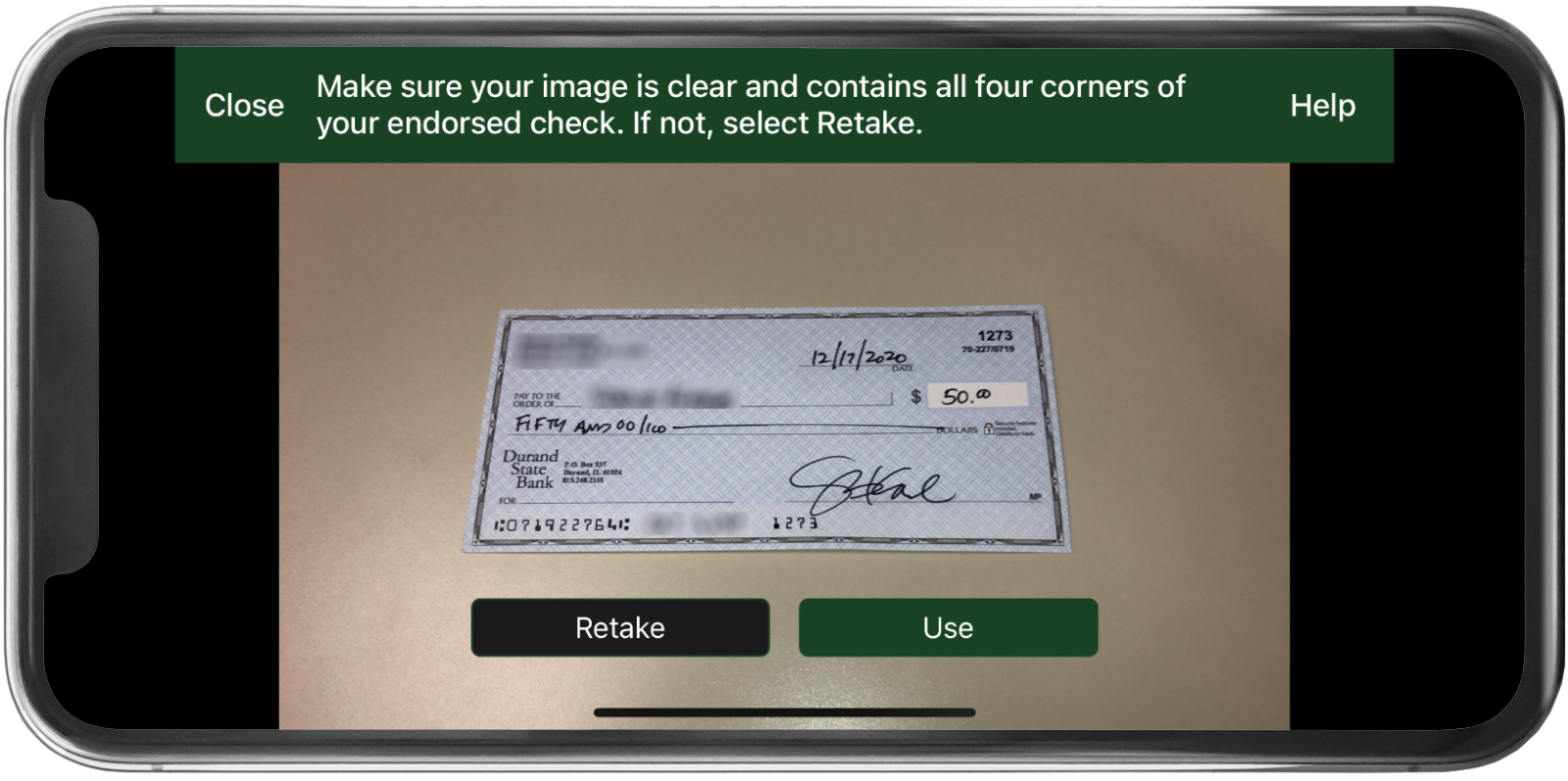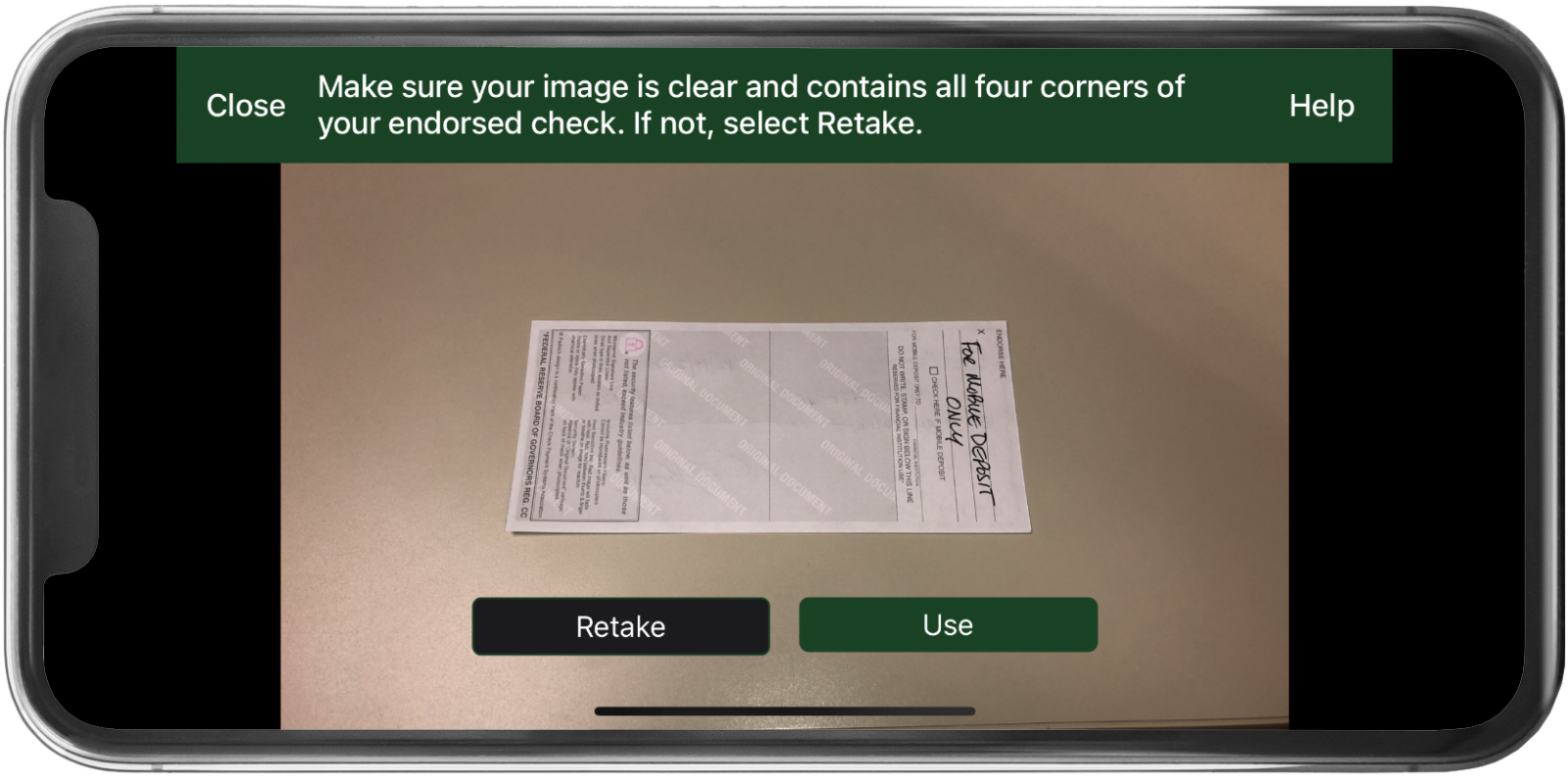 • Tap "Make deposit" to submit your deposit. Your deposit will be pending for a short period of time. Your funds are available when you receive your First eAlert notice.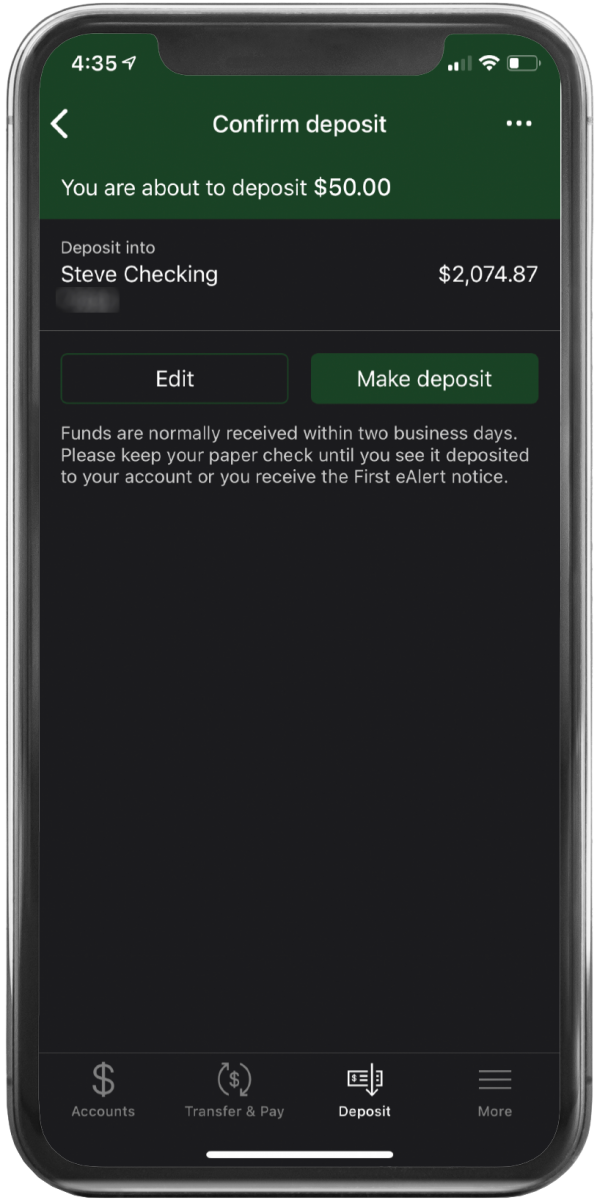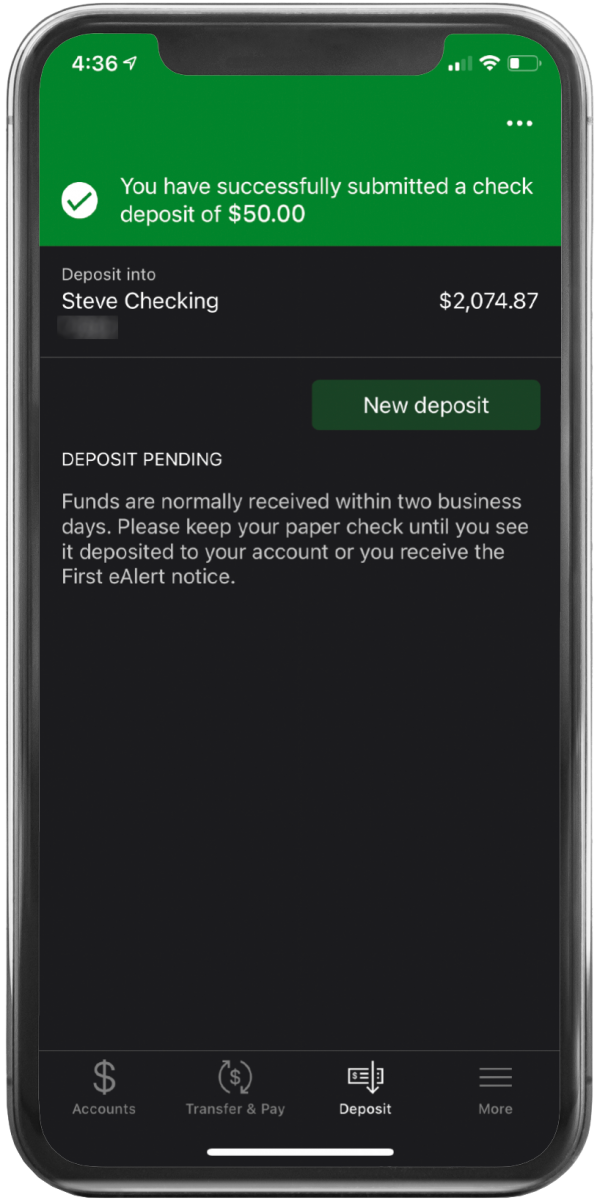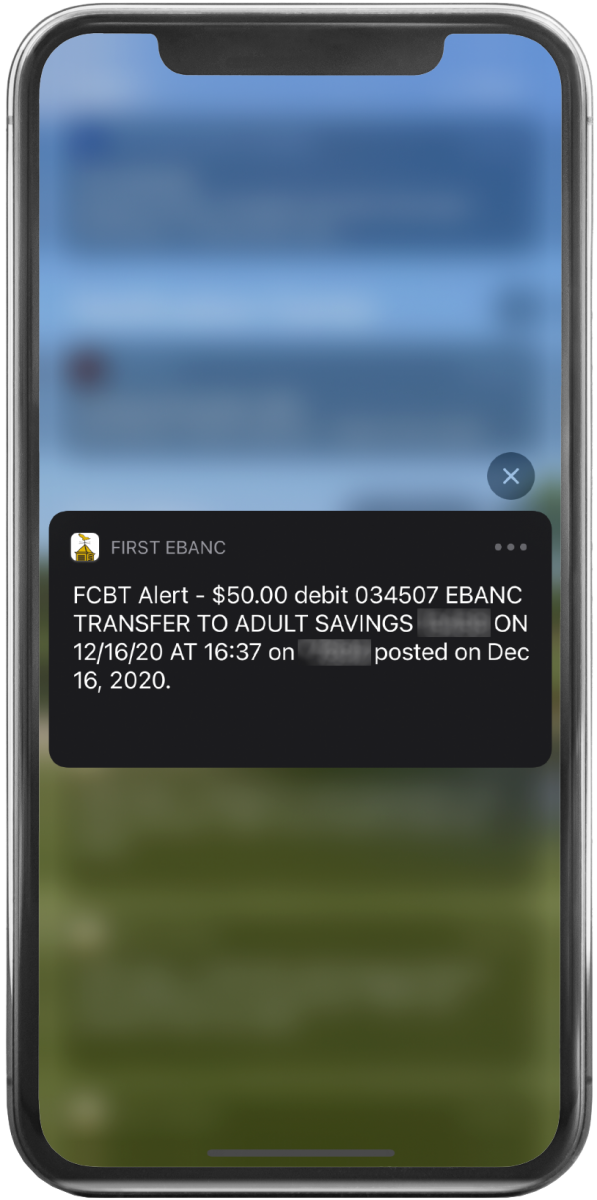 Procedures to remember
There are a few items that need to be considered when depositing checks via Mobile Deposit.
Use of Mobile Deposit is based upon approval of qualification review and verification of contact information. You must request Mobile Deposit. Call or use the online request form in First eBanc (Look for the Mobile Deposit link in the navigation bar on your dektop computer).
First Community Bank and Trust reserves the right to impose limits on the dollar amount or the number of checks that you can deposit using Mobile Deposit.
The image of a check deposited using Mobile Deposit must be legible.
You agree to restrictively endorse any check that is deposited using Mobile Deposit by writing "FOR MOBILE DEPOSIT ONLY" in the endorsement area on the back of the check. Items not properly endorsed may be rejected and will require resubmission.
Funds are normally received within two business days. Keep your paper check until you see it deposited to your account or you receive the First eAlert notice.
Sign Up Today!
Request Mobile Deposit by filling out our online form located in First eBanc on your desktop computer. Look for the Mobile Deposit link in the menu at the top of the page.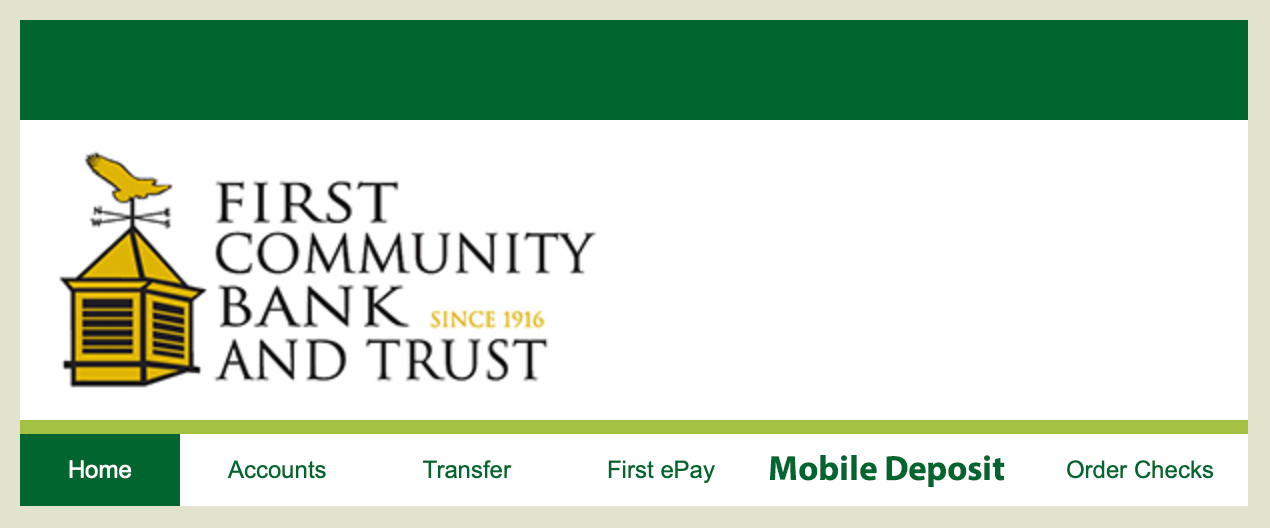 Or fill out the Mobile Deposit for First eBanc Mobile by clicking the llnk below.
Security
Protecting your information and your identity is our highest priority. With the use of encryption, firewalls and trusted operating systems incorporated into our overall banking network, best efforts have been made to secure your transactions.
Requires iPhone iOS 8.0 or newer/Android 4.4 or newer
Need assistance with Mobile Deposit?
Call us in Beecher at (708) 946-2246 or in Peotone at (708) 258-0530 or send us an online message.
Solutions for all of your personal needs