First eAlerts
Receive account notifications the moment activity occurs.
Many Alerts to Choose From
First eAlerts offers an easy to use interface and many alert types to choose from to help you track your account activity:
Debit card and ATM transaction alert
Non-Pinned Debit card transaction alert
Account balance below a set limit alert
Credit and Debit to your account alerts
Scheduled loan payment is due alert
Loan payment is due alert
More security alerts at your fingertips!
It only takes a few moments to set up the account alerts you want to receive. Then, just sit back and let the alerts keep you up-to-date on your account activity in real time.
Tracking your Debit Transactions is important
When you are a First eAlerts user, you are staying up-to-date on your account activity. Especially purchases made and cash accessed at an ATM using your FCB&T Debit MasterCard. This service is a great way to protect your accounts and catch any potential Debit Card fraud if it occurs.
Start using First eAlerts
View the screen shots below for step-by-step instructions to set up and use First eAlerts.
• Tap "Manage Alerts" on your First eBanc Mobile app home screen, turn on Push Notifications, then tap "Account Alerts" to setup your alerts. Tap "Security Alerts" to set up alerts for passwords, email and phone changes.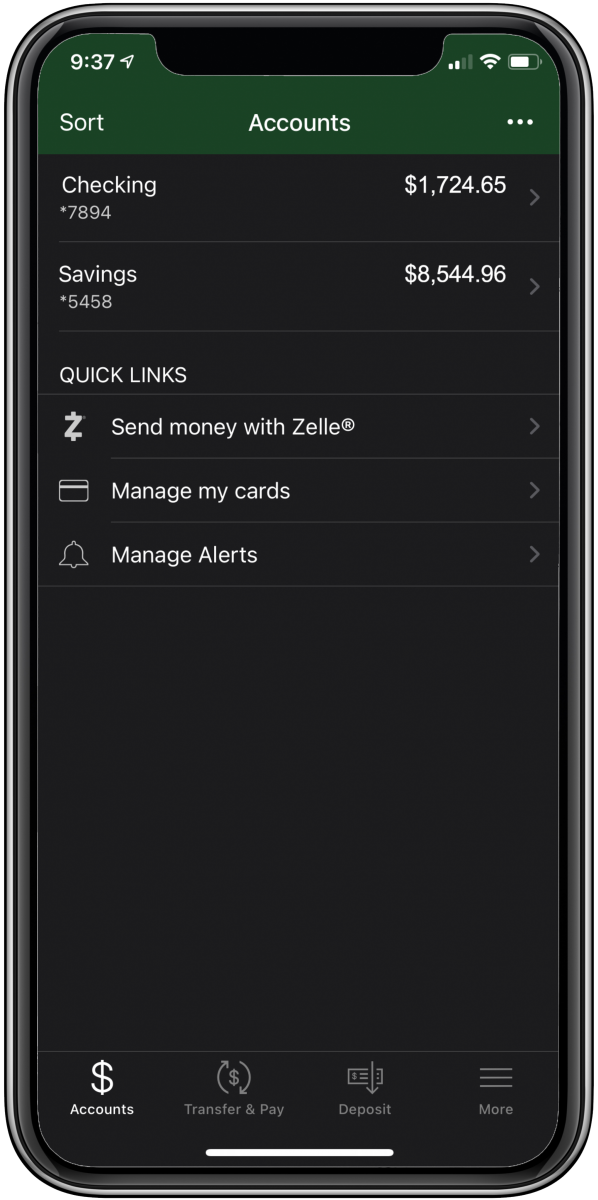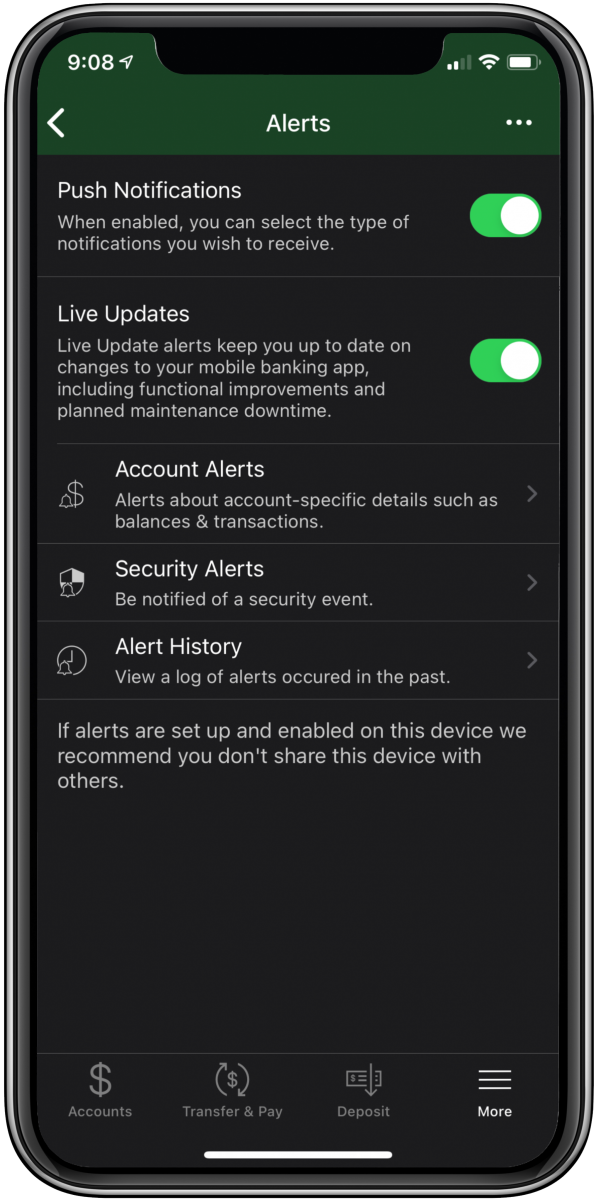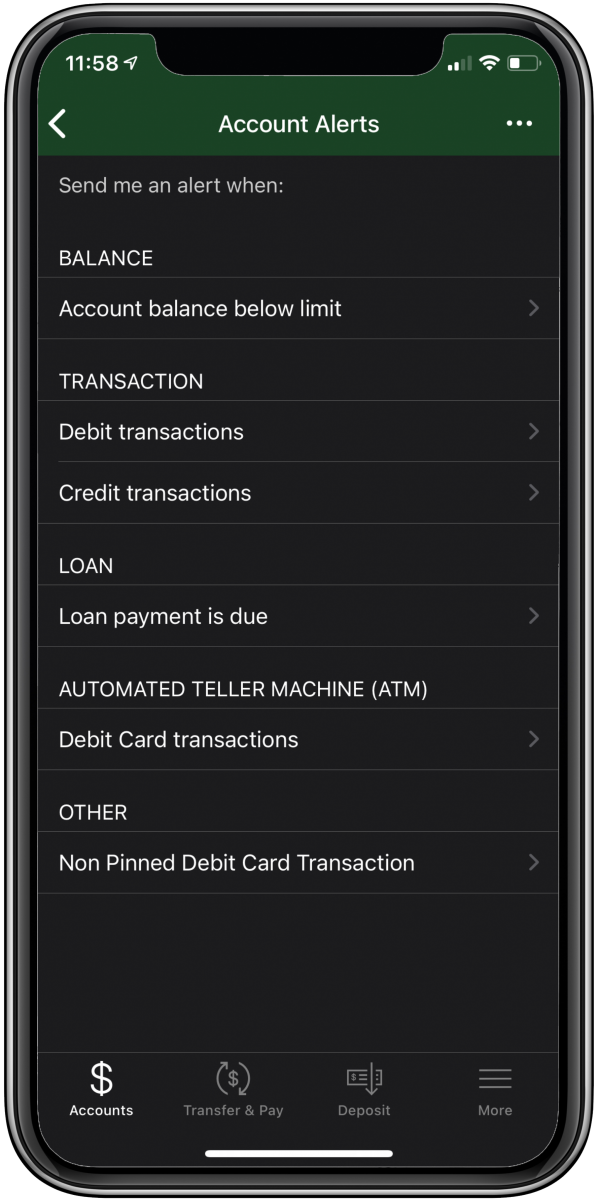 * Message and data rates from your carrier may apply.
First eAlerts Account Below Set Limit Action
If you are an "Account Balance Below Limit" user, you can use your Low Balance Alert to make a quick transfer to your account.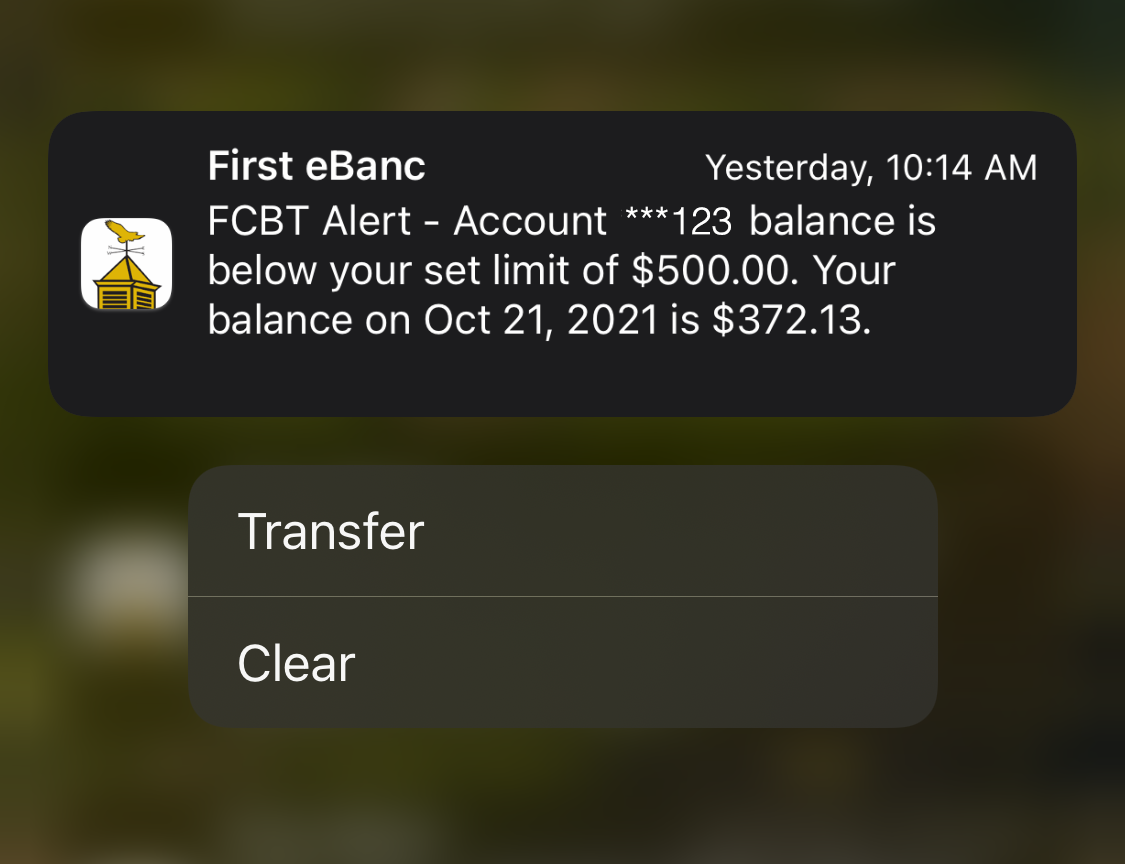 When you receive your "FCBT Alert - Account balance below limit" alert (see above example), "Press and Hold" the alert (iPhone) or tap the caret (Android) to activate the "Transfer" feature. Tap "Transfer", and you are presented with the "Transfer Funds" page. Follow the prompts to make your transfer. It's that easy!
* This feature works with Push Notifications only.
Set up text and email alerts
To set up text and email alerts, log into your account in First eBanc on a computer and go to Manage Alerts. There you can set up alerts for many kinds of activities and choose to have those sent to you via text or email.

Need assistance with First eAlerts?
Call us in Beecher at (708) 946-2246 or in Peotone at (708) 258-0530 or send us an online message.
Solutions for all of your personal needs